Price:$900 (2.5%) or $1,800 (5%)
ATHLETIC GELDING WITH QUALITY AND STRENGTH TO MATCH!
EL ROCA – PERFECT VINTAGE (BY STRATEGIC) – 1YO Bay Gelding
Country Racing Syndications are excited to offer this Quality gelding by exciting young sire EL ROCA to be trained Angela Davies out of her Gosford Stables.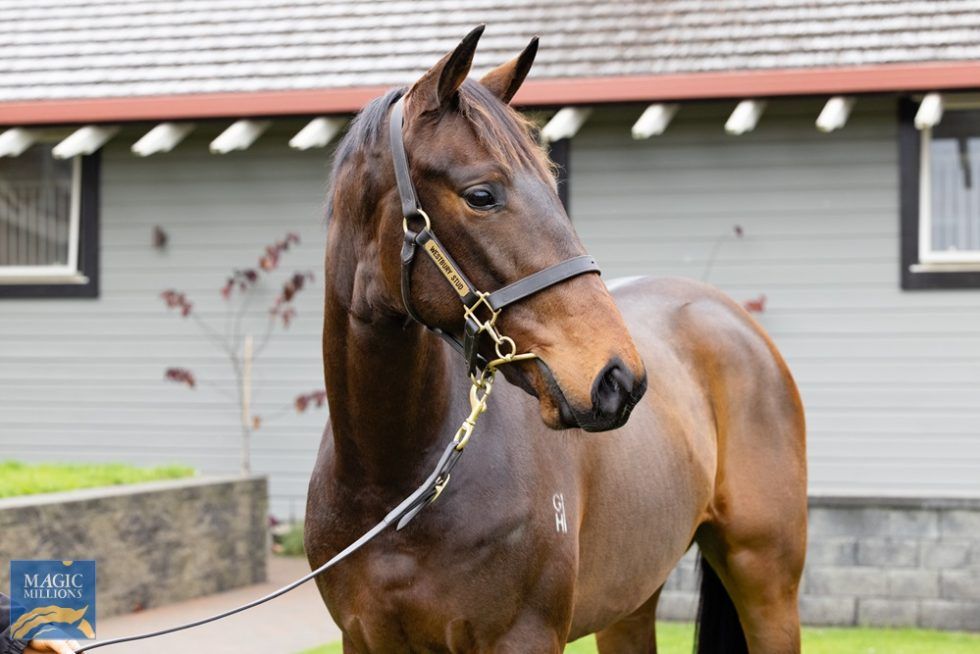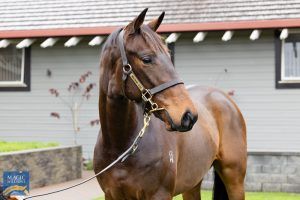 This is Athletic gelding ticked all the boxes and is well put together. Such a great type, nicely balanced and moves exceptionally well.
He has passed his clinical examination and is sound.
Shares are now available which include all costs until 30th September 2021.  Come join in the fun with Country Racing Syndications.
Click on the link https://vimeo.com/570615068
SIRE – EL ROCA
The Sire EL ROCA, Australian stakes winner who was narrowly beaten in the Randwick Guineas Gr.1 (to Dissident). Is the exceptionally talented son of Fastnet Rock – sire of Hinchinbrook, Smart Missile, Foxwedge, Your Song and Rothesay and also closely related to Champion Australian sprinter Redzel – dual winner of The Everest The lightly raced top drawer sire has defeated Group 1 winners Criterion, Dissident, Sacred Falls, Terravista, Boban, Fat Al, Long John, My Kingdom of Fife, Red Tracer, Romantic Touch, Streama, and Atlante. El Roca is undoubtedly the highest rated son of Fastnet Rock to retire to stud in New Zealand and the enormous respect he enjoyed when competing successfully in Australia.
DAM – PERFECT VINTAGE
PERFECT VINTAGE, by STRATEGIC out of the DANEHILL mare, VINTAGE POWER. This is her sixth living foal. Dam of five foals to race, two winners. Perfect Vintage is a half-sister to Toned a winner of 16 from 1300m to 2300m, and A$346,829 in prizemoney. She also hails from strong bloodlines notably GREAT VINTAGE (Sir Tristram).
Share Price – 2.5% share $900.00 or 5% share $1,800.00 or 10% share $3,600.00. (All prices inclusive of GST with all training expenses paid up until the 30th September 2021)
Payment Plan – $300.00 upfront then 2 x $300.00 equal monthly payments for every 2.5%.
Share Price Includes – Acquisition fee including GST, Transport, Training, Pre-Training, Agistment, Vet Fees, Scope, Merchandise, Registration, all other associated costs and much more until 30th September 2021.
Ongoing Monthly Fees – Fixed Flat Fee for a 2.5% share per month is $88.00 (incl. GST) and for a 5% share is $176.00 (incl. GST) and so on for ongoing upkeep expenses. First payment starts 1st October 2021. (Provincial Incentive Scheme Applied)
WE DO NOT CHARGE MANAGEMENT FEES or TAKE A PERCENTAGE OF PRIZEMONEY
Contact us now for a copy of the PDS (Product Disclosure Statement).
BAY GELDING (NZ)

Foaled 20th September 2019

---

| | | | |
| --- | --- | --- | --- |
| Sire | Fastnet Rock | Danehill | Danzig |
| EL ROCA (AUS) | | Piccadilly Circus | Royal Academy |
| 2010 | Rubimill | Rubiton | Century |
| | | Mill Rani | Millionaire |
| Dam | Strategic | Zeditave | The Judge |
| PERFECT VINTAGE (AUS) | | Sudden Impulse | Luskin Star |
| 2005 | Vintage Power | Danehill | Danzig |
| | | Great Vintage | Sir Tristram |

---

EL ROCA (AUS) (Bay 2010-Stud 2015). 3 wins at 1000m, 1200m, ATC Eskimo Prince S., L. Sire of 116 rnrs, 60 wnrs, inc. SW Travelling Light (WRC Levin Classic, Gr.1), SP Bella Mente, Irish Girl, Moeraki, Ima Roca Bee and of Summaroca, Esta la Roca, Mega Bourbon, Tina Again, Everyone's Delight, Paleontologist - Lucky Patch (H.K.), Roc Cha, Bea a Roca, Escudo, Kay Oh Ell, Not a Zak, El Nymph, First Rock, Landry, Newbay Flyer, Off Her Roca, etc.

1st dam

PERFECT VINTAGE, by Strategic. Raced once. Half-sister to Toned. This is her sixth living foal. Dam of five foals to race, two winners, inc:-

Vin du Jour (f. by So You Think). Winner at 1200m in Aust.

Out of Grange (g. by Onemorenomore). Winner at 2400m in Aust.

Berlinetta (g. by Testa Rossa). Placed in Aust.

Gee Wiz Gerry (g. by Conatus). Placed at 2 in NZ.

2nd dam

VINTAGE POWER, by Danehill. 2 wins at 1200m, 2400m, AJC Court Tavern Campbelltown H., 3d AJC Emirates Park Stud H. Three-quarter-sister to Seppelt, half-sister to GREAT ANNA, Vintage Morn. Dam of 8 named foals, 7 to race, 5 winners, inc:-

Toned (More Than Ready). 16 wins from 1300m to 2300m, A$346,829, WATC Westspeed Stayers' Bonus H., Festival of Perth Racing H., Esperance Cup, 2d VRC Flt Lt Peter Armytage H., WATC ABN Group Employee of the Year H., Tabtouch.mobi H., Facebook.com Racingradiowa H., Imagesource Display Systems H., 3d Pinjarra Cup, L, WATC Konica Minolta Business Solutions H., Yellowglen Cup Day at Ascot H., James Boag's Premium H., 4th WATC Detonator S., L.

Xavier. 7 wins from 1400m to 1800m, A$372,515, VRC National Jockeys Trust H., STC Winter Championship S., SAJC Adelaide Cup March 12 H., AJC Run Property H., Vaucluse H., Vili's H., STC Upstream Print Less H., 3d STC Merrylands RSL Club H.

Ruling Power. 3 wins at 1400m, 2000m in Aust., Malaysia and Singapore, Singapore TC South Africa Trophy, 2d AJC Seppelt Wines H., STC Franklins Supermarkets H., Singapore TC Graduation S.

Pouvoir. 2 wins at 1000m in Aust.

Ace Sinhwa. Winner at 1000m in Korea.

3rd dam

GREAT VINTAGE, by Sir Tristram. 4 wins from 1400m to 2400m, NZ$9,600, A$214,950, VATC Herbert Power S., Gr.2, Jim Conway H., ARC Buddy Holly Story H., 2d VRC Chester Manifold S., L, VATC Royal Show H., L, Avondale JC Tefal Welter, VATC Broadbridge Welter H., 4th VRC Melbourne Cup, Gr.1, Turnbull S., Gr.2. Three-quarter-sister to RIVERINA CHARM (dam of PAOLINO, SARWATCH), Phocion, Te Akau Jo (dam of PARTEE), Radium Springs (dam of BISHOPS ROCK), half-sister to LA GRANGE MUSIC. Dam of 11 foals, 9 to race, 7 winners, inc:-

GREAT ANNA (Anabaa). 5 wins from 1200m to 1900m, A$189,020, STC Epona S., L, MVRC Waterford Crystal H., STC Marathon H., 2d STC Aspiration Mares Quality H., 3d SAJC Australasian Oaks, Gr.1. Dam of-

Angelus (Lonhro). 4 wins from 1600m to 2100m, A$171,460, ATC Inglis H., Testlogistics P., Styletread.com.au H., 2d ATC Angst S., L, Rosehill Gardens on Facebook H., 3d ATC Tattersalls Club Cup, L, Panucci Transport H., Ashcroft P., TAB Sportsbet H. Producer.

Vintage Morn (Maroof). 2 wins-1 at 2-at 1200m, 1600m, 2d AJC Fernhill H., Gr.3.

Seppelt (Danehill Dancer). Winner at 1200m, 2d ARC Eclipse S., Gr.3, 3d Waikato RC New Zealand Bloodstock Classique, RL, Hawkins Waikato Juvenile H.

Daneprint. 6 wins from 1400m to 1800m, HK$2,923,350, HKJC Thistle H., Tseung Kwan O H., Williams Cup, Post Magazine H., Yuno When H., Lg H., 2d HKJC Seagull H., Wo Che H., Victoria Harbour H., Willow H., Robin's Nest H., 3d HKJC Tsui Ping H., Yan Chau Tong H., Thrush H., Wong Chuk Wan H., Yau Oi H., Hung Hom H., Panasonic Lamdash Linear Shaver H., Po Shek Wu H.

Sir Anabaa. 3 wins-1 at 2-to 1400m, A$77,550, VRC Exford P., VATC Wheatear H., 4th MVRC Bill Stutt S., Gr.2.

Vintage Power. 2 wins. See above.

4th dam

GREAT CARE, by Home Guard. Placed in GB. Half-sister to Phocion, Country Charm (dam of RIVERINA CHARM), Lake Louise (dam of OUR YANGTZE RIVER). Dam of 11 named foals, 8 to race, 6 winners, inc:-

GREAT VINTAGE (Sir Tristram). 4 wins. See above.

LA GRANGE MUSIC (Music Boy). 5 wins at 6f, 7f, Newmarket Criterion S., Gr.3, Curragh Waterford Testimonial S., L, Newbury Hackwood S., L, George Smith Memorial H., 2d Newmarket Hopeful S., L, 3d Royal Ascot Cork & Orrery S., Gr.3, Duke of York S., Gr.3, 4th Doncaster Park S., Gr.3. Sire.